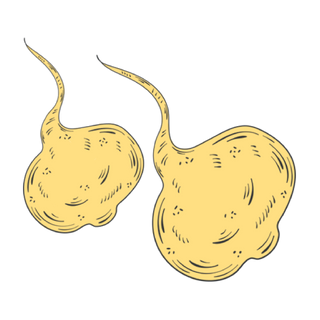 Maca Root
The Popular Maca Root Plant's Scientific Name Is Lepidium Meyenii, Also Known As Peruvian Ginseng. It Is From The Family Of Cruciferous Vegetables Like Cauliflower, Cabbage, Broccoli, And Kale. This Super Beneficial Vegetable Is Native To The Peruvian Andes Mountain Range And Became Popular Worldwide In The Last Couple Of Decades. It Is Said That Andean People Are Cultivating Maca For More Than 2000 Years.

Maca's Primary Benefits That Many People And Health Experts Claim Are; Enhanced Performance, Exciting Night Rides, And Better Stamina. This Peruvian Ginseng Has A Great Reputation For Boosting Energy And Enhancing Your Mood.

Health Experts And Nutritionists Also Suggest This Peruvian Ginseng For Improving Fertility In Males And Also Helps Relieve Symptoms Of Menopause, And Both Of These Claims Still Need To Be Further Studied For The Surety Of The Benefits.

Rooted Active Naturals Import Pure Maca Root From Peru To Offer The Best And All Of Its Benefits To The People. Our Peruvian Maca Root Is Organic-Certified And Lab-Tested For Purity And Potency.