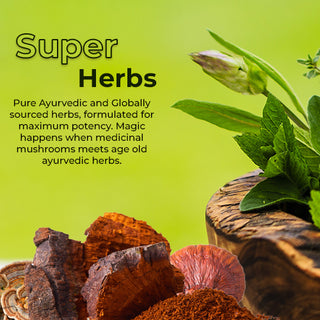 About Health Drinks
Health drinks, as the name suggests are beverages aimed at enhancing your physiological health with the use of various natural ingredients that are proven to be effective. At Rooted Actives, we believe in boosting immunity and metabolism with vegan, organic and no chemical nasties in our ingredients. . These provide wholesome and pure nutrition in addition to your regular diet. Apart from being exceptionally healthy and nutritious, these healthy drink mixes are also flavourful and taste amazing. Take a look at the variety of nutritious drinks available on our website and pick what suits your body best.

What Is Mixed Powder?
A health mix powder is nothing but a powder form of potent ingredients that must be dissolved in water or your favourite beverage and consumed daily for health benefits. The powder form ensures a longer shelf life and gives all the essential ingredients in a ready-to-drink packet. You may choose to consume the nutrition mix powder in any way you want, either by adding it to your favourite beverage or to any dish to enhance its nutritional value.

8 Benefits Of Drinking Nutrition Mix Powder
Depending on the type of health drink for adults you choose, you will experience a host of specific benefits for your body, such as nutrition with daily greens in our women's health drink that provides magnesium, which improves your bodily processes boosts energy and provides a natural detoxification. Here are some other benefits of consuming daily nutrition drinks:


• Enhances blood flow


• Supports heart health


• Boosts endurance and nitric oxide


• Detoxes and alkalizes


• Enhances energy and vitality


• Collagen-based supplements for glowing skin help reduce premature ageing signs and enhance skin and hair health


• Energy, focus and immunity-boosting


• Anti-inflammatory effects with soothing and calming action


Explore Rooted Actives Organic Health Drinks.

Here are some of our best recipes for nutrition mix powders for your health:


Power Beets:
This health drink for men and women contains beetroot, L arginine, L- carnitine, BCAA and resveratrol which helps boost energy, build e endurance and boost nitric oxide to support heart health.


Super Greens, Mushrooms and Herbs Blend:
Get all the goodness of 22 essential green veggies, mushrooms, herbs and prebiotics with this organic health drink of mushroom superfoods and supplements.


Super Reds:
Try these heart health supplements with the blend of 21 nutritious fruits and berries, which enhance heart health and circulation.


Plant-based Collagen:
If you are looking for a plant protein powder or a source of vegan collagen, this pre-workout supplement for skin and hair health is right for you and is enriched with tremella mushrooms, biotin, silica, vitamin C and 17 beauty boosters.


Wellness Mushroom Coffee:
One of the best brain booster supplements, these powder supplements are infused with pure Arabica coffee, lion's mane and chaga mushrooms as a superfood.


How Golden Latte Mix:
One of our most popular stress relief supplements, this health drink for women and men calms and soothes inflammation.

Rooted Actives is the right place for you to buy such plant-based superfoods, gut health supplements and capsule supplements with USDA-certified and third-party tested formulations.
When Buying Health Drink Powder Online, Consider These Factors

Ingredients:
No matter what your health concern is, always review the ingredients list before buying supplements and ensure they are natural, do not contain any chemical nasties and are non-GMO.
Testing:
To ascertain whether the claims made by the brand are true, you should look at whether they are third-party tested and certified by authorities like USDA. Rooted Actives is a brand that offers all products that are USDA-certified.
Calories
If you are someone who is calorie conscious, have a look at the calories in each drink and whether it fits into your daily goals
Why Choose Rooted Actives?
Rooted Actives is an organic health drinks brand that offers a wide variety of nutrition powders. You can rest assured that all our health drink mixes are USDA-certified, organic, vegan and third-party tested. They are prepared in a traditional process with no fillers and no nasties. We use traditional combinations of ingredients that are proven to be effective and test them rigorously for quality.
Natural fruit drinks, kombucha, coconut water, protein shakes and nutritional health drinks are all very nutritious besides water.

Can I take nutrition powder every day?
Yes, you must take it every day for the best results.
Is a nutrition shake mix good for women?
It is very beneficial for women because they tend to have various deficiencies at different stages of their life due to hormonal and nutritional factors
What drinks to avoid?
You should avoid any drinks with synthetic chemicals, nasty ingredients, artificial processes of manufacture and alcohol-based drinks.

.