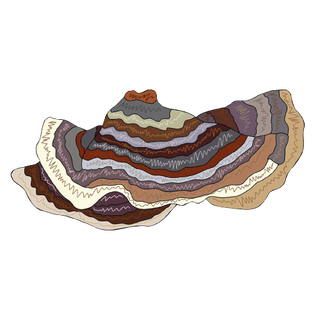 Turkey Tail
Turkey Tail Medicinal Mushrooms Have Been A Part Or Used As A Dietary Supplement In Traditional Chinese Medicine For Centuries. This Super Mushroom Resembles The Appearance Of A Turkey's Tail And They Grow On Tree Trunks And Fallen Trees In Forests.

Turkey Tail Functional Mushrooms Are Packed With An Array Of Antioxidants That Help Reduce Oxidative Stress. The Turkey Tail Mushroom Also Contains Phenols And Flavonoids That Also Act As Powerful Compounds And It Helps Reduce Inflammation And Boosts Immunity, And Improves Gut & Liver Functionality.

Rooted Active's Pure And Super-Effective Turkey Tail Super Mushroom Contains Both Krestin (PSK) And Polysaccharide Peptide (PSP), Which Are Two Types Of Polysaccharopeptides. Both Of These Active Compounds Contain Special Properties That Help Us With Boosting Immunity And Suppress Inflammation. PSK Also Activates Specific White Blood Cells Called Macrophages And Helps Protect Our Body Against Different Bacteria.