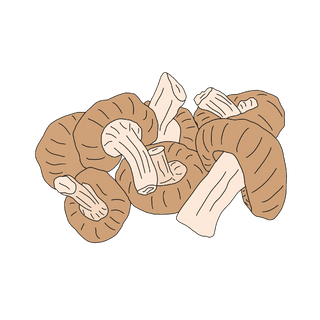 Shiitake
Shiitake Mushroom Grows On Fallen Logs In The Mountain Regions Of Some Asian Countries – Japan, Korea, And China. This Mushroom Has Long Been Used In The History Of Traditional Asian Medicine. It Is So Popular Among The People Of China That They Are Cultivating This Highly Effective Mushroom For More Than 1000 Years For Its Extraordinary Health Benefits.

It Is One Of Those Natural Superfoods That Contain One Of The Highest Amounts Of Natural Copper, Making It Highly Effective In Treating Hair & Skin Conditions. Shiitake Super Mushroom Helps Strengthen Blood Vessels, Which Ultimately Provides Extra Support To Cardio Functioning.

A Study Found That The Shiitake Mushroom Contains Eritadenine, A Compound That Works To Reduce Cholesterol Levels In The Blood. It Also Contains Polysaccharides Like Lentinans & Beta-Glucans, And These Compounds Protect Against Cell Damage, Boost The Immune System, And Increase White Blood Cell Production By Eliminating Microbes.