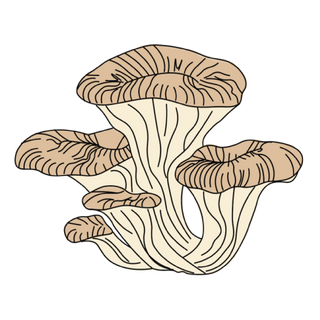 Oyster Mushroom
Oyster Or Pleaurotus Ostreatus Is An Edible Mushroom Native To Germany, And It Was First Cultivated There As A Subsistence Measure During World War 1. There Are More Than 40 Types Of Oyster Mushrooms, And The German Or American Version Is Now Grown Commercially Around The World.

Oyster Mushrooms Contain Fibre, Minerals, And Many Other Important Nutrients. They Are Low In Carbohydrates And Loaded With Folate, Potassium, Iron, Phosphorus, Zinc, Vitamin D, And Selenium. These Super Mushrooms Are A Great Source Of Protein, Fibre, And Varieties Of Vitamins & Minerals.

Because Oyster Mushrooms Are Packed With Vitamins, Minerals, Fibres, And Beta-Glucans, These Can Help Support Cardio Functioning, Manage Sugar Levels, And Have Loads Of Antioxidants For Stronger Immunity.